Concerned by discolored or dark sensitive areas? You're not alone. Thousands of men and women are embarrassed by skin discoloration on their intimate areas. But now there's a fast and easy solution.
Fade Scars, Birthmarks, and Blemishes
Lighten Freckles and Age Spots
Brighten Dark Underarms
RevitaBright helps to fade darkened skin patches quickly and easily – all from the very first application.
Order RevitaBright today!
How Does RevitaBright Work?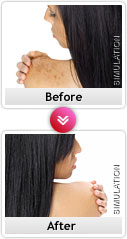 Melanin is a pigment created by the body to protect the skin from excess sun exposure. Melanin production can also be linked to genetics. Too much melanin concentrated in one area leads to skin discolorations, such as dark spots or freckles. Skin lightening reduces the pigmentation in dark areas to even out skin tone.
RevitaBright uses natural skin lighteners to fade discolorations. One of RevitaBright's active ingredients is Kojic Acid, which prevents excess pigment from forming.
Using RevitaBright twice daily – once in the morning and once at night – can significantly lighten skin discolorations in as little as four weeks.